We Are Your Maine Mountain Wedding Venue Destination
The Inn at Pinnacle Mountain is a Maine Mountain Wedding Venue destination. The venue is an outdoor event location, and if you are having 50 or more guests, a tent would be required. We are located 60 minutes from Portland, 3 hours from Boston, and 6 hours from New York City.
Most of the questions you may want to ask us are listed here or on our FAQ page.
If you can't find your answer here, please call us and we will try to answer your questions as best as possible.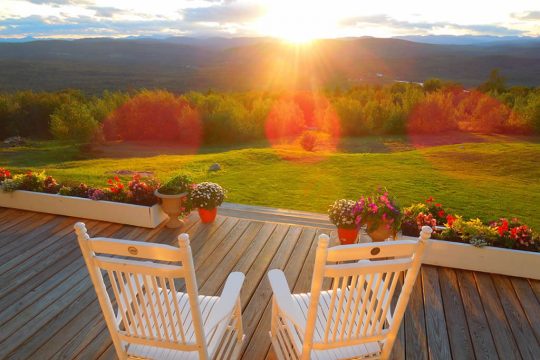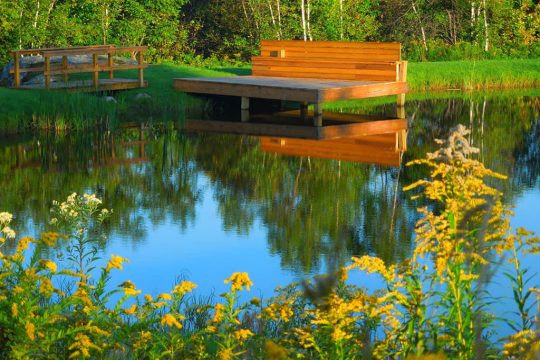 Our Wedding Package Includes
3 nights for the bridal party/parents (If you would like additional nights it would be an additional cost).
Bridal / Honeymoon Suite for the Bride and Groom includes a King size Tuscan Bed, 2 person Jacuzzi tub, double granite sinks, propane fireplace, private deck, wet bar, refrigerator, microwave, Bose Sound System, 42″ flat screen TV, and DVD.
Indoor heated pool (heated in winter only) and hot tub (year around). This is for house guests only.
Gourmet kitchen stocked with all you would need to cook with, plus pantry spices, etc.
52 Acres of Private Property with an incredible view of the Presidential Mountain Range.
Keep your wedding party hopping well past midnight. There is no noise ordinance in West Paris
Private Walking Trails
Private Pond with picturesque bridge and dock for photo opportunities
Beautiful birch trees for photo ops
Extensive decks around the Inn for Rehearsal Dinner and Wedding Cocktail Hour
Extensive flower boxes filled with flowers summer and fall around the entire deck for beautiful backdrop
Tent pad with incredible view for tents that hold up to 200 Guests
Propane fire pit on the front deck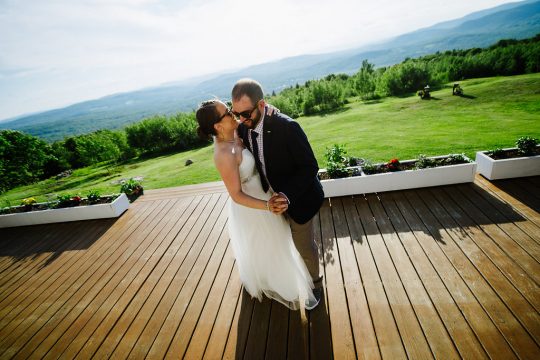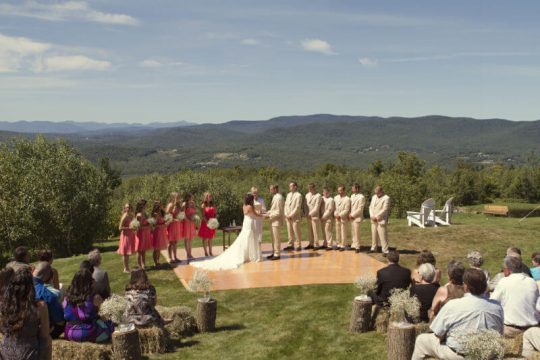 Outside Bar with refrigeration, running water, gas grill, flat screen TV, and outdoor speakers. Great for Rehearsal and Cocktail Hour
Outdoor fire pit on side of property
Outdoor furniture
Sleeps up to 16 in beds. This includes a queen size blow up bed. If you should have more people we have another single blow up bed, and you are free to bring your own.
5 Bedrooms – 1 King, 2 Queen on 2nd floor – 2 queen, 4 twin on the 3rd
5 Bathrooms
Ceiling Fans in all the suites, and Window A/C units in suites and 3rd floor rooms.
All linens and towels included
Fireworks permitted with a permit and the Fire Official
Laundry Facilities
Water and Electric available for your Caterer
Staff on site 24/7 – We will be there to help you on the day of your Event which is included in the price. There are no set times when you must end your event, nor are there any noise restrictions.
The Bridal/Honeymoon Suite is cleaned by our staff while you are enjoying your reception. Our cleaning includes a romantic set up that includes lighting, bathroom touch up, bed make up, vacuum if necessary, and special romantic touches for you and your partner.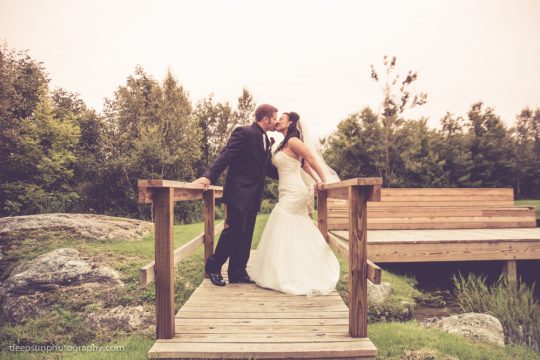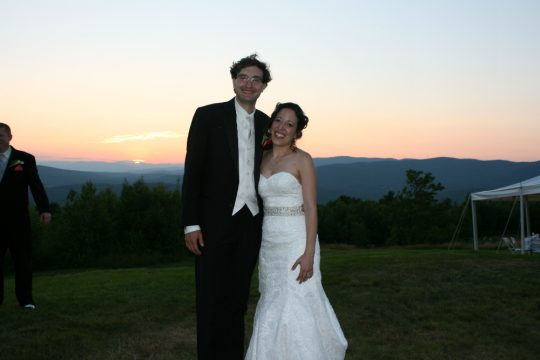 Notary Public, DJ, Caterers & Bartenders
Inn at Pinnacle Mountain has a Notary Public on site, and will marry you for free if you book the Inn. Pinnacle Mountain Music is on site and will give you a discount if you book the Inn. Currently we have 2 terabits of music, more music is added monthly, and we have 12K worth of DJ equipment. You are free to use your own DJ or have a band.
We have a list of Caterers that we use, however we will work with you if you have a particular one. If you have a Caterer, we will need a copy of their certificate of insurance and catering license before the day of your event. There is a catering fee for caterers not in our network.
Our Liquor Professionals can handle all your alcohol needs. You can have a cash bar, a signature drink, limited bar, ticketed bar, beer and wine, or anything that suites your needs. We can work with you and your budget.
Tent Rental
Our tent and rental provider is exclusive. We will only use their tents for several reasons:
The tents are clean and well taken care of
The tents do not have holes or duct tape on them
The tents are held up with metal poles and ratchet straps which are cross picketed to assure the tent stays in place
They are professionally trained to erect a tent
The tents are white peak tents
The package comes with cathedral window walls
The package includes tent with window walls, tables, chairs, linens, china, glassware, utensils, lighting, dance floor, serpentine bar, and more.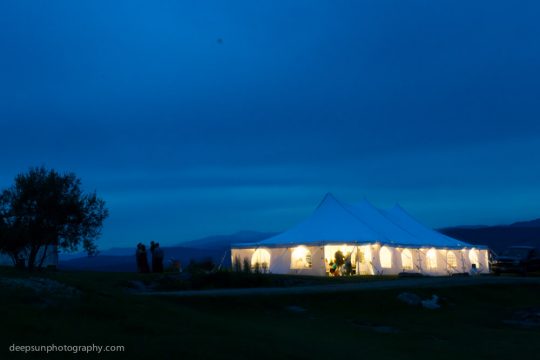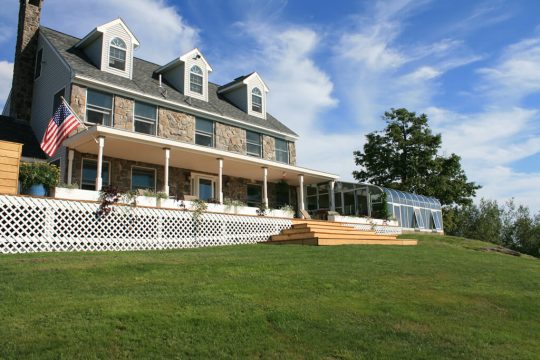 Parking and Other Amenities
A parking attendant would be required to park cars if you are having 50 guests or more. We have the parking attendants, which is an additional small fee. The fee is $25.00 an hour and they are used for approximately 2 hours. The parking attendant is also there to make sure no guests are driving up the driveway during your wedding ceremony. Guest transportation/shuttles can be arranged for an additional fee.
The wedding venue has bathrooms for your wedding guests to use. No need to rent portable toilets, which can cost $650.00 or more. We have a Ladies room and a Men's room inside the Inn on the 1st floor, that is available to your guests. Toilet paper, paper towels, and hand soap is available for their use.
Wedding Package Pricing
The 4-day, 3-night Maine mountain wedding venue starts at around $8,700.00**, depending upon guest count, tent size, lighting, dance floor size, bar choice, etc.
This includes:
3 nights up to 18 guests staying in the house
Super High Peak White Wedding Tent with Cathedral Window Tent Walls
Apollo Globe Lighting Package
folding tables (your choice of 8' Banquet, 6' Banquet, or Pedestal tables 36" Round, or 36" Square,)
White or Ivory floor length table linens with your choice of 63+ colors of Polyester table Runners (1 per table)
Polyester Dinner Napkins (your choice of our 63+ colors,)
Bone white china place settings (Din. Pl, Sal. Pl, Dessert Pl, 4 piece hammered metal flatware
2-piece stemware (Water Goblet & Univ. Wine Glass)
White garden padded resin folding chairs
appropriate Dance floor
1 Serpentine Service bar with black covering
Event Design with set-up and Removal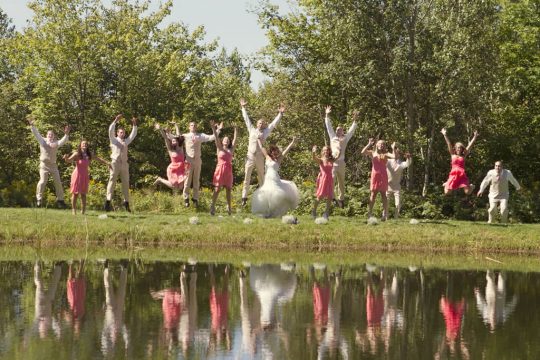 We will be happy to quote you on liquor and caterer once we know what your needs are. We can work with you to suggest how best to create the wedding of your dreams with your budget.
For weddings with 50 or less guests a tent is not needed and prices will reflect that. Additional costs would be a $1,000.00 refundable damage deposit.
Contact us to personalize your perfect Maine mountain wedding package.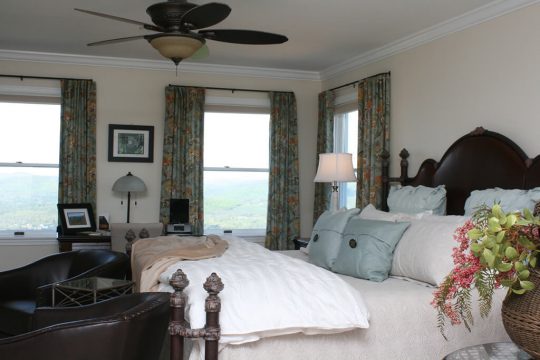 Additional Overnight Accommodations
Hotels in the area are Sunday River, Mollyockett Motel, Bethel Inn Resort, and Hampton Inn across from the Oxford Casino.
There are also Bed & Breakfasts in Bethel, along with many rental homes available for multiple families.