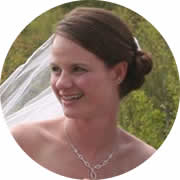 The view from the Inn at Pinnacle Mountain is spectacular, especially the sunsets. The view is definitely one of the top reasons why I chose the Inn, but most importantly I chose it because of John and Mary LemMon, the owners and innkeepers of this beautiful location. Planning a wedding in Maine while living in Alabama is no easy task, but John and Mary made it so much easier. Mary had great suggestions for local vendors, such as florists, beauty salons, photographers, and bakeries. She understood my vision, even though I wasn't always able to articulate it well. The Caterer that Mary and John referred us to prepared our rehearsal dinner and the reception dinner menu – both of which were absolutely delicious! John was not only our officiant but he was also our DJ and he did a fantastic job at both! He did a wonderful ceremony, incorporating everything we wanted. Not having to look for a caterer, a DJ, and someone to marry us was a blessing. We arrived a few days before the wedding with my parents and my Maid of Honor. When we entered the house, classical music was playing in different rooms and it was really relaxing. We relaxed in rocking chairs on the front porch and soaked in the hot tub every evening. All the rooms were cozy and welcoming and the beds were equally comfortable. Our guests kept saying how beautiful everything was and what a good time they had. I did not feel stressed and it was an amazing weekend. I am so glad (and so are my husband and parents) that we chose the Inn at Pinnacle Mountain for our wedding.
Meredith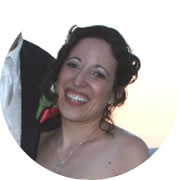 This place is amazing! My hubby and I got married here in July of 2015. It was our dream wedding! The Inn and the views that surround it are so romantic. We had such a wonderful experience working with John and Mary. They were so welcoming and accommodating. Our bridal party had so much fun staying there for the weekend and all our guests were wowed. I can't even begin to explain how beautiful the views are which made pictures breathtaking! We are so lucky that we have these memories to look back at and I would suggest this place to anyone looking for a beautiful venue in the near future! I wouldn't have changed a thing.
Rachael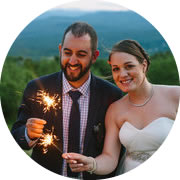 My fiance and I rented this house for our small wedding and it was magnificent! Though we had visited the location in April to discuss our wedding with the Innkeepers (Mary & John), when we finally arrived for our actual stay in June the views were even better than they were previously. Everyone that came up and stayed with us for the weekend loved the house, the view and the relaxing atmosphere. I think every person took at least 20 pictures of the gorgeous view, but really no pictures could capture how fantastic it was in person! The wedding itself was exactly what we wanted, a small affair with our closest family members in a gorgeous setting. Mary & John helped us in every way we needed and provided catering for our lobster bake reception. The food was absolutely delicious (our families are still craving the bacon wrapped scallops with maple dipping sauce)! As for the house, the two of us, and both of our immediate families stayed over and fit in the house comfortably (total of 14 people). The two kids that were with us had so much fun in the pool, it was difficult to keep them out of it! I absolutely think that we will be renting this house again, just to try to re-live such a special time in such a special place!
Amy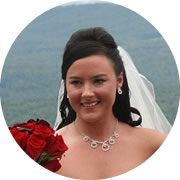 The Inn at Pinnacle Mountain is an incredible place to hold a wedding! We took over the entire Inn for a long weekend and had a good time with our party. Everyone was absolutely in love with the gorgeous view and mountain top majesty! I envisioned getting married in a place that screamed of Maine's natural beauty and I more than achieved my vision, even despite the freak mountain storm during my 30 minute ceremony when the rest of the day was stunning. When it comes to that moment I learned how absolutely amazing my friends/family/party are and that very little about what was going on around me mattered aside from me standing in front of my hubby to be 🙂 I now find rain romantic at the very least! We got married on the deck, but they have the space to accommodate a lot of people in multiple areas on the property. Mary and John love what they do and are very good at it! Mary catered a post-wedding brunch for us that had people raving! They both go above and beyond to make the bride and groom happy on their special day!
Shalise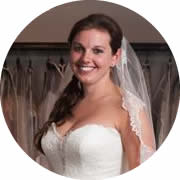 We just returned home from an amazing weeklong Honeymoon and dream wedding at this beautiful home. John and Mary were so wonderful to work with. They have thoughtfully grasped what people need for a wedding and when they want to "get away from it all." The house and surroundings are breathtaking. Our wedding guests were in awe when they saw the view from the front porch. Pictures don't capture how amazing this property truly is, however our wedding photos are absolutely beautiful. The accommodations were top of the line. Plenty of towels, kitchen supplies, and everything we needed to host the rehearsal dinner. We spent most down time in the pool and hot tub watching the glorious sunsets over the mountains. We can't wait for a return trip for our anniversary next summer to sit by the fire pit and spend some more time enjoying this incredible property! Thank you John and Mary for sharing your beautiful home with us, and allowing us to have a wedding of our dreams. We will be back soon!
K.C.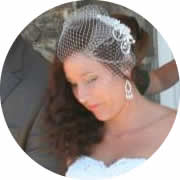 There are so many things I need to mention about our stay, rehearsal dinner, and wedding at the Inn at Pinnacle Mountain. Our decision to stay a few extra days turned out to be the best thing because we did not feel stressed at all prior to our wedding day. We had 19 guests in our group (14 adults 5 Kids) that stayed in the house. Upon arrival Mary and John were there to meet us and show us the property. They are such a sweet-hearts, and they made us feel so comfortable on their property. The house is so beautiful and so big, that it fit our group well. The house is very well equipped, there are plenty towels (shower and for the pool) the kitchen has everything you need to cook or bake. The sheets are so luxurious and comfortable, we ended up buying a set from them. We spent our down time outside on the deck and grilling. The kids enjoyed the pool so much it was hard to get them out of there. Our rehearsal dinner was amazing on the outside decks. The wedding ceremony was so beautiful and peaceful, and John did an amazing job marrying us. Our reception under the tent had the same views as being on the deck, and our guests enjoyed the catered food that Mary and John recommended to us. Mary and John made sure we had everything we needed. Watching the SUNSET from the deck is Phenomenal and so beautiful that there's no words to describe. Our guests just loved the whole experience. All I need to say is to thank John and Mary for the opportunity of having our beautiful wedding at your property. It is the most amazing place in Maine, we look forward to our anniversary to come back and stay.
Daniele